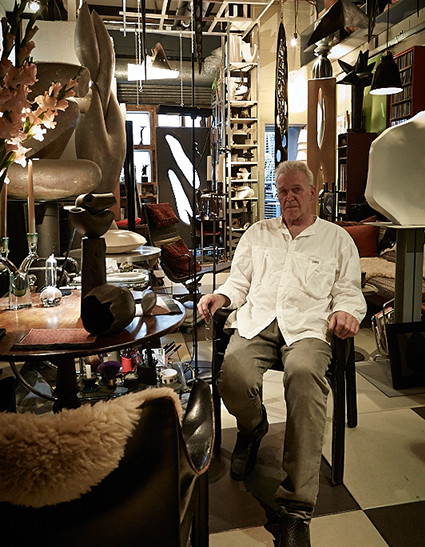 The art of Theo Willemse gives free rein to his audience's imagination. His serene, organic sculptures and paintings invite contemplation of dramas in abstract stylized anatomy – human, tree and animal. His artwork and design attain a high degree of finish utilizing an array of materials to express his narrations in layered monochromatic forms.
Born in Amsterdam, Holland, Theo currently resides in Toronto.
Education
1969–71 Central Technical Secondary School, Toronto, Fine Arts program. Sculpture Master: Wyndham Lawrence.
Experience
1971–72 Apprentice to William McElcheran, Toronto sculptor.
1978 Lost wax bronze casting at Artcast Fine Art Casting, Georgetown, Ontario.
1979–80 Technical Assistant to Leslie Moore, University of Western Ontario, London, Ontario.
Development and construction of Museum of Indian Archaeology, permanent exhibition gallery.
1984–85 Teacher, sculpture classes, the Koffler Centre, North York, Ontario.
Design Projects
Unique fabricated metal mirrors of glass and stainless steel, carved wooden bench, cast aluminium table.
Design of sculpted bronze and aluminum candleholders.
Development of complete line of sculptural jewellery and hanging display unit.
Cast stone and wood bench with leather seating.
Boardroom table for headquarters of Citycorp Management, Toronto.
Development of mobile display unit for artwork.
Design of rod-based bases for sculptures.
Art Work
Series of paintings integrated framing with architectural references some with cast stone mounts.
Group of carved wooden sculptures for bronze casting, some with cast stone bases.
Arrow series. Stone cast sculpture from clay originals.
Vessel series. Carved wooden sculptures for bronze and aluminum casting designed for Osaka Design Competition.
Pierced hanging sculptures; and other forms in wood.
Styrofoam and plaster series of sculptures using a burn-out process with integrated bases.
Recent castings of neo matrix explorations.
Solo Exhibitions
1977 Gallery House Sol, Georgetown, Ontario
1981 Merton Gallery, Toronto, Ontario
1982 Gallery House Sol, in conjunction with George Hawkin
1987 Koffler Gallery, North York, Ontario
1989 391 Berkley Street, Toronto, Ontario
1990 20 Maud Studio Exhibition, Toronto, Ontario
1991 Willemse/Kearns Exhibition, in conjunction with Gertrude Kearns, Toronto, Ontario. Established contemporary gallery.
2005 Gallery Contempra, Toronto, Ontario
2011 Spazio Dell'Arte Gallery, Toronto, Ontario
Group Exhibitions
1971 Gallery House Sol, Georgetown, Ontario
1972 Oakville Public Library, Oakville, Ontario
1979 Merton Gallery, Toronto, Ontario
1983 Bau Xi Gallery, Toronto, Ontario
1984 Bau Xi Gallery, Toronto, Ontario
1992 Canadian Centre of Art and Design, Toronto, Ontario
1993 Genereux Grunwald Gallery, Toronto, Ontario From Start to Furnish show
2004 Propeller Gallery, Toronto, Ontario
2005 Contor Gallery, Toronto, Ontario
Current Spazio Dell'Arte Gallery, Toronto, Ontario
Collections
Goodman and Goodman, Toronto, Ontario
Coutts, Crane, and Ingram, Toronto, Ontario
City Core Developments Ltd., Toronto, Ontario
Russ Pet Investments Ltd., Toronto, Ontario
Farano, Green, and Branf, Toronto, Ontario
Kearns and Mancini, Architects, Toronto, Ontario
The Four Seasons Hotel, Toronto, Ontario
Commissions
Current – Large Scale Painting, Private Collection
Bocca Restaurant, Toronto, Ontario
Kearns and Mancini, Architects, Toronto, Ontario
Cara Operations for In Flight Food Services, USA
Sculptural shapes for National Ballet Company Yearbook '92/93
Sculpture for Alexander Wilson Memorial Garden, Toronto
Exhibitions in Commercial Venues
Bocca, Toronto, Ontario
Lipton's, Toronto, Ontario
Parrot Express, Toronto, Ontario
Norman Rogul Furs, Toronto, Ontario
Cibo, Toronto, Ontario
Hauer, Inc., Toronto, Ontario
Ira Berg, Toronto, Ontario
Juin, Toronto, Ontario
The Design Yard, Dublin, Ireland
Chapters The Mantle Series Toronto, Ontario
Art used on film set – Caveman Valentine currently in distribution
Archive Inc., Toronto, Ontario
Peter Pan, Toronto, Ontario
Private Collections Work appears in private collections in Toronto, Vancouver, Los Angeles, London, England